I feel embarrased, which is probably a good sign, might teach me a thing or two. I hurt myself. I don't know when it was. That is the worst part. I have no idea when it happened.
Last Wednesday my ladies holidays arrived very conveniently [NOT!] while in Kurmasana. Dead set in the middle of primary series, eliminating the possibility of it being a rest day, but oh well. I stopped there and took my two days of rest. The next day however, I noticed some pain in my lower back, and when the first practice back from holidays came around the very early poses signaled me that for the life of God I had to stop! It all happened at triang mukhaikapada paschimottanasana. It was simply impossible.
Triang mukhaikapada paschimottanasana
did me in… there was no more practice after that
I could not bend down. My lower back was in pain, a LOT of pain. I could only move vertically up and down, no opportunity for side movement. In any direction. Even to stand up I had to ask for help and the pain would be terrible until I was completely straight up.
Looking at anatomy books and into the internet I could clearly isolate the Erector Spinae as being the one in trouble, it is after all the muscle that maintains the spine erect and it is exactly where I, still, feel the pain.
Body builder showing off his erector spinae
Good thing I have been reading "I Am That" and was able to put things in perspective, take it easy, and notice that a little injury is just something happening in the screen of my mind and that none of what my mind was telling me was true (things like I would never be able to practice again, etc.)
I am helping things by doing the following:
– Staying active. Going to bed seems not good as usually pain is an indication of stagnated energy, which, if immobilized could lead to further complications. So I did what I could which was not much. Even sitting hurt.
– Took quite a bit of Advil. Especially in the first couple of days. Advil is a blessing for reducing inflammation. I have yet to try the Chinese herb recommended in "A Tooth From the Tiger's Mouth" which is the "herbal ice", or San Huan San. I did not have any handy and therefore Advil had to do the trick, which it did, nicely, it allowed for some movement and walks. I love walks, especially on this weather, I mean, is this weather for real? 80 degrees in March?
– Went back to Dr. H's suggestions, which work like charm, used the Gou Pi Medicated Plaster, they are expensive but worth every penny. For the past couple of days I have had two in my lower back and they ease things, get the chi to move, and reduce inflammation. They also feel mildly warm.
Gou Plaster with
Chinese medicinal properties
– I re-ordered the U-I Oil (like "you and I" oil -that is how I remember the name) which I used in India when I had a deep adjustment in Kurmasana. This oil is great for when something hurts, I put it in the morning and then wash it off after a few minutes because if you leave it for a long time it will burn more and more.
Then as the practice starts to kick in (say by the end of the standing sequence or earlier depending on temperature) the area gets warmer and the circulation flows.
This one works. Liking it quite a bit, helped me in India
and now at home
– I also tried cupping, but I suppose I need more practice with that. James helped me with the suction cups I got a few months ago, and I left them there on the back for a good five to ten minutes. Maybe it is because it was on day one and I did not repeat that I did not feel any difference. Nothing helped on day one, it was just terrible.
-The one thing that DID NOT WORK: I Tried a new Analgesic and pain relieving lotion made in Singapore called Hak Kwai, and I must say it did not work AT ALL. Not only that but it also stained everything, the sink, my hands, my back. It is going straight into the garbage.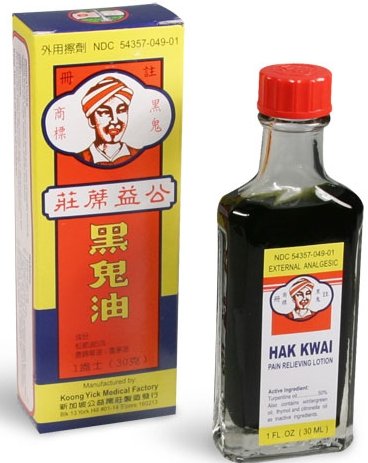 This Hak Kwai DID NOT WORK AT ALL
Today I was finally able to get on the mat and was surprise at how even though the right side still hurts, most of the practice was doable, even the sited forward bends, within reason.
The impossible ones turned out to be any jump backs or throughs and the shoulder-stand.
But I guess I am learning about anatomy and about seeing things reflected on a screen knowing that they are not me. And that I, like you, am the witness of it all.
If you read this far you may want to see what happened in the end. Also here is how John Cambpell (my certified Ashtanga Yoga Teacher in NYC, quickly identified the root of the part of the problem that was not psychological), a great read.